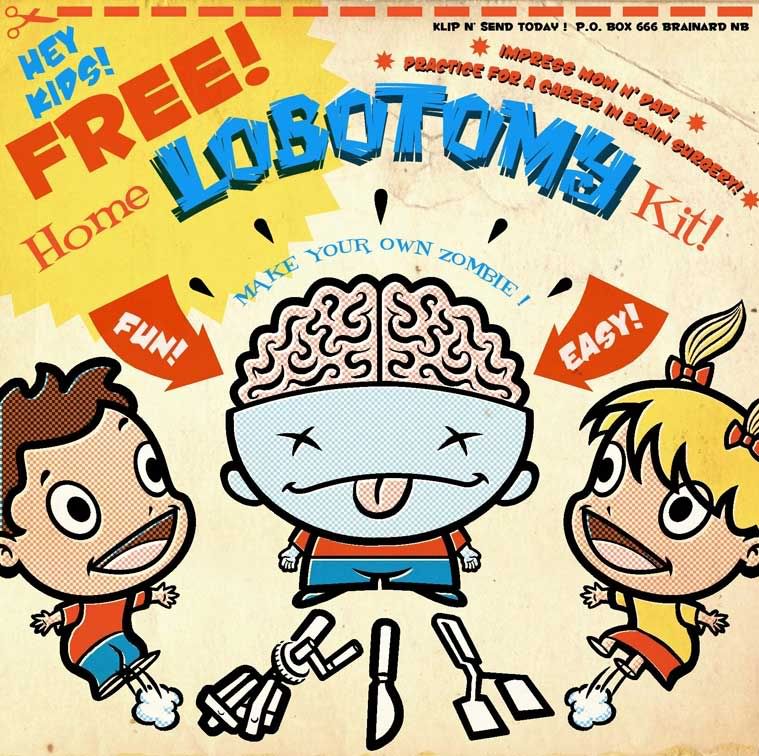 First I just want to mention, if you are a fan of illustration from the fifties, be sure to check out my other blog,
Today's Inspiration
, and please feel free to comment.
The piece I did here this week for I-Fri was very much inspired by the amazing work of
Candy Killer
artist, Brian Taylor. I just received the book version of his website and its fantastic! If you ever saw Art Spiegelman's "RAW" magazine, this guy would have fit in there like a dirty shirt.
I used to go crazy for this kind of faux-retro cartoon style back in art school when a guy named
Lou Brooks
was just making the scene. He was a huge inspiration to me. The first few years in the business, I used to snap up every promo piece Brooks put out. He proved to me that you could work in a cartoon and comic style in the "legitimate" illustration field.
Once again this week, I put Painter to the test, as I try to learn more about this program's capabilities. All the line art was done in Painter, first in pencil and then in ink - then coloured in Photoshop. I used Photoshop's halftone filter for the dot patterns, and the background texture is a scan of the inside cover of an old Dennis the menace Pocket Full O' Fun digest comic I bought at a used bookstore probably almost thirty years ago. For some reason they never printed anything on the inside of those digest covers...
Oh yeah! And just about all the fonts used are free downloads from
FontDiner.com
- with my thanks!