Ever since doing this piece last year ( the original piece, that is ) I've been intrigued by the little guy peeking out from behind the tree. I really liked the looks of him, and always planned to do some character development on his silhoetted form...eventually.
After posting the digital recreation of the painting last weekend for Illustration Friday, I could resist no longer - I decided to see what he actually looks like when not lurking in the shadows. From the beginning I had always intended that he should be a werewolf - but a cute little werewolf. I've been playing with the
kawaii
form of cartooning over the last couple of years ( mostly unsuccessfully ) and I imagined wolfie in that style.
But the first sketch didn't look right...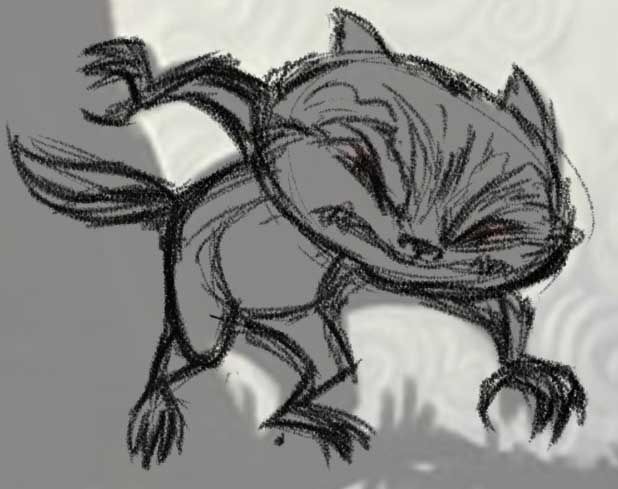 And the second sketch didn't look right...
And the third sketch at least started to look "wolfish" - but it just wasn't "cute".
At this point I was feeling pretty depressed and in need of some kawaii inspiration. Whenever I need an injection of that kind of cute I head on over to the
Pucca Club
. The tiny little characters that inhabit Pucca's world are just the ticket to get my kawaii juices flowing.
I started working on a new sketch - direct to oils in Painter - and was feeling like this time I might just be on the right track when in walked my darling wife, Wendy, and commented enthusiastically, "Oh wow, I LOVE your angry chipmunk!"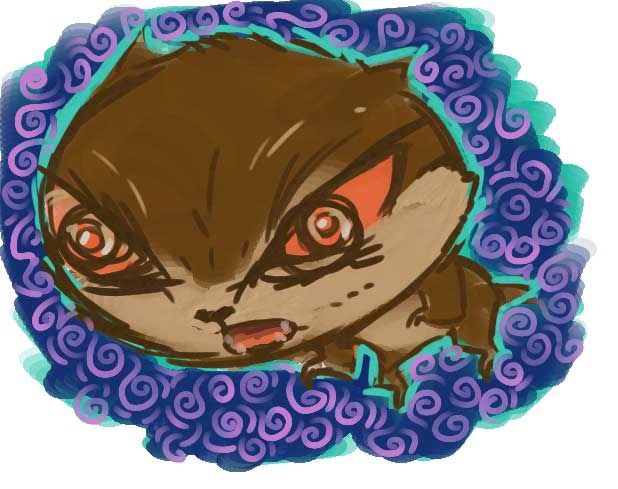 Huh.
So there you go.
Should you ever find yourself wandering through the woods of my paintings at night, under the full moon, and you hear the snap of a twig and spy a shadowy figure crouched by an old dead tree and are filled with dread - fear not - its just an angry chipmunk out for a midnight stroll.